Dear MID Ratepayers,
Like other major urban areas across the country, downtown Seattle continues to face significant challenges brought on by the pandemic. Thanks to investments by Metropolitan Improvement District (MID) ratepayers, however, we're beginning to turn a corner. Increases in leisure travelers, residents, hotel occupancy and major events is driving the return of pedestrian foot traffic.
As chair of the MID Ratepayer Advisory Board, I am helping oversee a $3.3 million investment approved last summer by the MID Board to support a multifaceted downtown recovery strategy. Investments made by MID ratepayers are essential to ensuring downtown Seattle emerges from the pandemic healthy, vibrant and ready to compete with urban centers across the country.
Over the past several months, MID assessment funds have been put toward enhancing the public realm and the downtown experience, with a focus on safety, cleaning, activations and marketing. Over the summer, we produced hundreds of free events to draw people back downtown, and create a welcoming environment for residents and workers. In July and September, we hosted Welcome Back Weeks with Welcome Back Booths across downtown. Our team greeted more than 20,000 workers, residents and visitors with information, refreshments and gift cards to downtown retailers, attractions and restaurants.
We invested in additional cleaning services across all 285 blocks of the MID, including sidewalk pressure-washing,
alley flushing and graffiti removal. We've been working with the Seattle Police Department to increase downtown patrols and have hired private security for the urban parks we manage. We continue to offer outreach on the streets of downtown, connecting unsheltered individuals with housing and other services. This summer and again this holiday season, MID funding supported a successful regional advertising campaign to reintroduce locals to all this unique urban center has to offer.
In addition to ongoing investments in events, marketing and enhanced cleaning and security, we're continuing public space improvement efforts throughout the district, including new light installations to enhance and activate empty storefront windows.
The MID is committed to responding to and adjusting our services to meet the current needs and challenges facing
ratepayers and the downtown neighborhood. In light of the changes to the downtown environment brought on by the pandemic, we are evaluating our deployment approaches, services, priorities and practices to increase our impact and ensure a safe, clean and welcoming environment for all.
Thank you for your continued investment in downtown Seattle and our efforts to advance recovery. For more information about recovery metrics, visit: downtownseattle.org/programs-services/research/economic-recovery.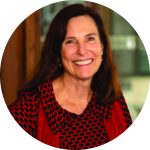 Sincerely,
Lisa Nitze
MID Ratepayer Advisory Board Chair
Vice President, Marketing, Investments & Community Relations, Nitze-Stagen